A hack of Democratic party emails has been blamed by Hillary Clinton's campaign team on Russian agents trying to help Republican Donald Trump. So are there really any links between the New York hotel developer and Moscow?
Several pundits have raised questions about the businessman's ties to Russia, amid fears that Moscow could be interfering in the US election.
Russian Foreign Minister Sergey Lavrov has strongly rejected the accusation that Russia was responsible for the hack.
"I don't want to use four-letter words" he said, when asked about the allegation.
So what links are there between Mr Trump and Russia?
---
1. The email hack
The Democratic convention was supposed to be a seamless show of unity. But a data dump of Democratic National Committee emails has caused chaos in Philadelphia.
The New York Times later reported that "researchers have concluded that the national committee was breached by two Russian intelligence agencies".
According to the Daily Beast: "It's an operation that several US officials now suspect was a deliberate attempt to influence the presidential election in favor of Donald Trump."
Trump and his aides have denied any connection, and there is no evidence linking Trump to the leak.
"The new joke in town is that Russia leaked the disastrous DNC e-mails, which should never have been written (stupid), because Putin likes me," Trump tweeted.
On Wednesday, however, he called on Russia to find emails deleted from Clinton's private server. "Russia, if you're listening, I hope you'll be able to find the 30,000 emails that are missing," he said at a press conference. "I think you will probably be mightily rewarded by our press."
---
2. Pro-Putin staff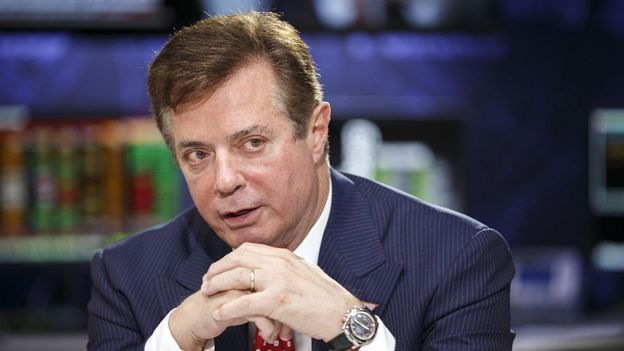 Paul Manafort, Trump's campaign chairman, has spent decades as a political adviser in eastern Europe.
Mr Manafort worked closely with former Ukrainian Prime Minister Viktor Yanukovych, who was ousted from government in 2014 and is a known ally of Vladimir Putin.
According to Josh Marshall, one of the most vocal journalists questioning Mr Trump's Russian ties, his foreign policy advisor Carter Page has "deep and continuing financial and employment ties" to Gazprom, Russia's trillion dollar energy company.
"It is no exaggeration to say that you cannot be involved with Gazprom at the very high level which Page has been without being wholly in alignment with Putin's policies," Marshall writes.
But in a critical response to Marshall, author Jeffery Carr notes that Mr Page "left Gazprom in 2007 and has made very little money from Russia ever since".
---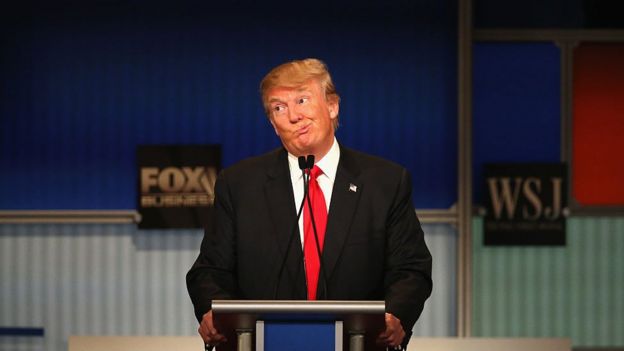 3. Changes to Republican manifesto
The Republican National Committee shifted their stance on Russia under pressure from Trump staff in the days leading up to the convention in Cleveland last week.
One delegate proposed an amendment calling for the US to provide eastern Ukraine with "lethal defensive weapons" in their ongoing struggle with Russian-backed rebels in the region.
According to the Washington Post, Trump's allies pushed to weaken the statement, committing instead to providing "appropriate assistance".
It was the only substantial change to the platform that Mr Trump's team requested, and it came as he told the New York Times that he might not honour Nato commitments should Russia invade Baltic states.
Still, the Post also notes that such a position, while out of step with basic Republican tenets, is not unheard of in Washington:
"President Obama decided not to authorise [sending lethal weapons to Ukraine], despite recommendations to do so from his top Europe officials in the State Department and the military."
---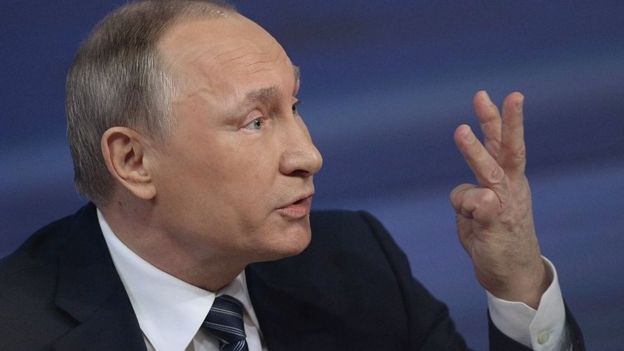 4. Financial ties
Mr Trump no longer does business with many US banks. Instead, Marshall argues, Trump "has steadied and rebuilt his financial empire with a heavy reliance on capital from Russia".
That includes "financing from questionable sources in Russia and Kazakhstan," according to a lawsuit uncovered by the New York Times.
Mr Trump himself has said he has "zero investments" in Russia.
And as Julia Ioffe writes in Foreign Policy, many companies pursued business in Russia, and Trump failed to make significant inroads in the country.
"The fact that Trump, after so many attempts and with such warm intentions toward the country, was not able to build anything in Russia- when Ritz Carlton and Kempinski and Radisson and Hilton and any number of Western hotel chains were able to – speaks to his abysmal lack of connections to influential Russians," she writes.
It's not unusual for real estate companies to receive significant Russian business but there's no evidence that Trump's political views have been bought.
"Correlation does not prove causation. Just because funders might want to influence powerful people doesn't mean that they actually do," writes theWashington Post's Daniel Drenzer.
---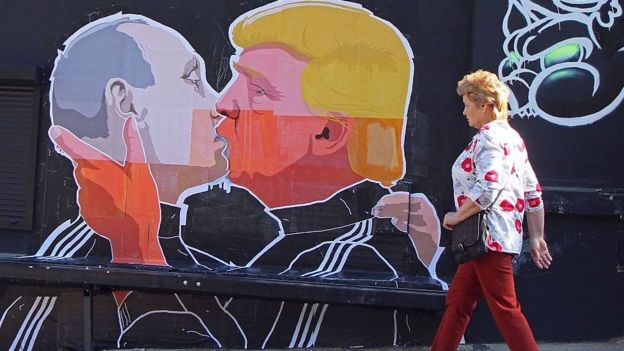 5. 'Bromance'
Putin called Trump "bright" and "very talented". Trump has spoken with admiration on multiple occasions about Putin's political strength.
"What we have is a kind of bromance going on between Vladimir Putin and Trump," Clinton advisor Jon Podesta said on TV when asked about the email hack, noting there was no known connection between the two.
President Barack Obama told NBC he did not know if the hack came from Russia but added: "What I do know is that Donald Trump has repeatedly expressed admiration for Vladmir Putin.
"And I think that Trump's gotten pretty favourable coverage back in Russia."
Ioffe has reported that the Kremlin dislikes Clinton and sees a Trump presidency as one more aligned with their interests.
But that doesn't meant Mr Trump is in cahoots with Mr Putin. It is not illegal to speak glowingly of an American adversary, or to share similar political values.
Judging by the latest polls, it's not a deal breaker for American voters, either.
1. On Friday of last week, WikiLeaks released a number of emails from staffers at the Democratic National Committee showing several instances in which employees of the supposedly impartial party organization disparaged or tried to work against the candidacy of Sen. Bernie Sanders (D-Vt.) late in the 2016 primary season.
2. In part to distract attention from the politically damaging nature of the leaks, Hillary Clinton campaign manager Robby Mook told CNN's Jake Tapper that the emails had been stolen from the DNC by hackers working for the Russian government, and suggested that they were released to help Donald Trump.
3. Over the course of the week, Trump has disparaged the assertion as Democrats have tried to tieTrump to Russian President Vladimir Putin.
4. Trump's opponents within his own party have tried to do the same thing. On Monday, George Will, who has repeatedly spoken out against Trump, told Fox News' Bret Baier that he thought Trump was withholding his tax returns "because he is deeply involved in dealing with Russian oligarchs and others."
5. On Tuesday evening, Trump tweeted this, in an effort to draw a clear line between himself and that specific suggestion.
6. On Wednesday morning, CBS's Norah O'Donnell asked Trump campaign manager Paul Manafort if Trump had "financial relationships with any Russian oligarchs." Manafort replied, "That's what he said, that's what I said. That's obviously what our position is."
7. The problem is that Donald Trump has in the past had obvious economic interests in Russia. The Washington Post outlined them in June.
8. A quote in that piece from Trump's son, Donald Trump Jr. — who is also an executive with Trump's business — makes clear how the company in 2008 sought business from wealthy Russians. "In terms of high-end product influx into the U.S., Russians make up a pretty disproportionate cross-section of a lot of our assets," he said at a conference that year, according to news reports. "We see a lot of money pouring in from Russia."
9. The year prior, Trump said in a deposition that "Russia is one of the hottest places in the world for investment," and that he planned to "be in Moscow at some point."
10. Donald Jr. also described what it took to do business in the country. "Russia is just a different world," he reportedly said. "Though the legal structure is in place for what we have today, and even 99 percent is covered, that 1 percent not covered could be 100 percent covered over there because it is a question of who knows who, whose brother is paying off who, etc."
11. Our article also delineated a number of other known Trump business links to Russia, including:
A 1987 trip to Moscow, then still part of the Soviet Union, to find a site for a luxury hotel.
A 1996 effort to build a condominium complex in the country.
A 2005 push to convert an old pencil factory into another Trump Tower.
The 2008 sale of a mansion in Palm Beach to Russian oligarch Dmitry Rybolovlev.
Partnering with Aras Agalarov, the "Trump of Russia," on a project in Moscow in 2013 that didn't come to fruition.
Hosting the Miss Universe pageant in Moscow in 2013, when he still owned it, earning a cut of the money spent to lure it there — including some from Agalarov.
12. Part of the problem for Trump is that he seems to be unusually friendly with Putin.
Do you think Putin will be going to The Miss Universe Pageant in November in Moscow – if so, will he become my new best friend?
13. As columnist Marcus Hawkins noted on Twitter, Trump has backed away from past assertions that he has a close relationship with Putin.
14. During a Republican debate in November, Trump said that "I got to know him very well because we were both on "60 Minutes," we were stablemates, and we did very well that night."
15. In an interview with a local station in Miami on Tuesday, Trump changed his story, as Hawkins notes. "I have nothing to do with Russia, nothing to do, I never met Putin, I have nothing to do with Russia whatsoever," he said. Asked if he had any outstanding loans from Russian banks or investors, Trump replied, "Absolutely not. It's ridiculous." It was advantageous in November to seem close to Putin; it is disadvantageous to be seen that way now.
16. Let's loop back to Trump's tweet about how he has "ZERO investments in Russia." Heprefaced it with "for the record."
17. There are actual records that could prove his point, as Chris Cillizza pointed out on Tuesday: his tax records.
18. Trump has continually refused to release his tax records, saying that it's because some of them are being audited. A former IRS commissioner we spoke with said that this 1) wasn't prohibitive and that Trump could release the returns that are under audit if he wanted to and 2) he could easily release the older ones that aren't under audit. (Trump says he won't.)
19. Trump has used the lure of someday releasing his tax records as a way of deferring other questions. In May, he told ABC's George Stephanopoulos that he would reveal how much he paid in taxes only when he released his returns.
20. When Mitt Romney was under pressure to release his taxes in 2012, we'll note, Trumpbragged about how he wouldn't hesitate to turn his own over. "I actually think that it's a great thing when you can show that you've been successful, and that you've made a lot of money, that you've employed a lot of people," he said. "I actually think that it's a positive."
21. On CBS on Wednesday, Manafort seemed to largely close the door on the records ever being released. "Mr. Trump has said that his taxes are under audit and he will not be releasing them," Manafort said.
Update: During a press conference a few hours later, Trump reverted to his old argument that he would release his taxes once the audit was done.
22. The burden of proof is on those like Will who claim that Trump may have financial links to interests in Russia — a burden that would be very hard to meet without the release of Trump's tax records or other documents detailing the income that Trump has reported.
23. From a political standpoint, that works to Trump's disadvantage, allowing his opponents to raise questions about something that can only be answered concretely by releasing documents he'd like to keep private.
24. But Trump is pretty familiar with that political tactic.