Anyone who says that a 500 ft. or 1,000 ft. setback between an oil or gas well and YOUR home is either delusional or a scam artist…
Colorado explosions killed three, spurring state inspections

Anadarko shares fall as investors weigh chance of higher costs
Two months after a Colorado home exploded near an Anadarko Petroleum Corp. well, the reverberations are still rattling the oil industry, driving down driller shares and raising fears of a regulatory backlash.
The April 17 blast, which killed two people and injured a third, was followed a month later by a second deadly explosion at an Anadarko oil tank in the state. The incidents have revived calls to restrict drilling near populated areas within Colorado's rich Niobrara shale formation, the fourth-most productive shale basin in the U.S. They've also spurred the state to order new inspections around thousands of oil and natural gas wells.
While the repercussions aren't expected to kill off operations in Colorado, they could raise costs for an industry already walking a financial tightrope, with oil prices down 14 percent this year. Since May 2, when authorities publicly tied Anadarko to the home explosion, company shares have lost about 14 percent, while the S&P 500 Energy Index is down less than 1 percent.
"Something like that will be remembered," said Joe Ryan, an environmental engineering professor at the University of Colorado at Boulder who studies the industry. "Even if statistically it's infrequent, that may be the kind of thing that pushes the public to say, 'we have to see improvement.'"
Other drillers active in Colorado have also seen their shares slide, with Extraction Oil & Gas Inc. falling 8 percent and Noble Energy Inc. down almost 5 percent.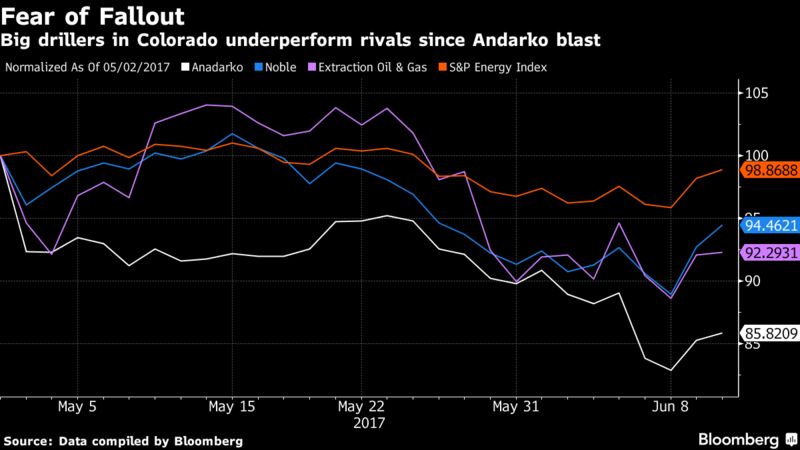 Anadarko, one of the world's biggest independent oil and gas drillers, has a long history in Colorado, dating back more than 30 years. Since the April blast, the company has deployed more than 350 workers to comply with a state order to inspect underground pipelines, spokesman John Christiansen said in an email. It's also voluntarily replacing gas-supply lines of the type implicated in the blast at thousands of wells.
"Our current focus is on taking the appropriate actions to help residents feel safe," Christiansen wrote. "We believe any legislative or regulatory action around this issue will be most effective when we have all the information from the investigation."
Still, investors remain nervous about the potential fallout, according to Michael Scialla, a Denver-based analyst with Stifel Nicolaus & Co. While Anadarko is likely to be fined, "the damage already pales in comparison to what they've lost in market value," he said in an interview. The company has shed more than $7 billion of its value since the end of March.
The April incident leveled a home in Firestone, just north of Denver. Fire officials blamed gas that had seeped into the house from an abandoned line connected to an Anadarko well 200 feet away. Five weeks later, on May 25, an explosion and fire at an Anadarko oil tank in nearby Mead, Colorado, killed one contractor and left three others hospitalized.
The U.S. National Transportation Safety Board is probing the first incident, while the federal Occupational Safety and Health Administration is looking into the second. Anadarko, based in The Woodlands, Texas, voluntarily closed thousands of wells for inspection after the Firestone explosion and has promised to cooperate with authorities in both cases.
Resident Fears
State officials have moved to dispel resident fears. Governor John Hickenlooper last month ordered drillers to inspect oil and gas lines throughout the state. Reports covering 17,000 wells had been turned in as of May 30 and are still being reviewed, according to the Colorado Oil & Gas Conservation Commission.
Through a spokeswoman, Hickenlooper, a Democrat and former petroleum geologist, declined to comment on whether he sees a need for more regulation.
What happens next is unclear. After the Firestone blast but before the Mead tank fire, the Republican-led state Senate blocked legislation to increase the buffer, or setback, required between new wells and other properties. The limit now stands at 500 feet for homes and 1,000 for schools and hospitals. The effort could be revived when lawmakers reconvene in January.
"We are in wait-and-see mode but we don't think a major strategic policy shift is likely," said Ethan Bellamy, an energy analyst with Robert W. Baird & Co. in Denver. While "fracktivists in Boulder" will still fight drilling, "the practicalities of the state's budgetary reliance on oil and gas revenue likely prevent any overly draconian changes."
Failed Referendum
A referendum to expand setbacks to 2,500 feet around occupied buildings and bodies of water failed to gather enough signatures last year to make it onto the November ballot. The proposal could have outlawed operations in 90 percent of the state, the oil & gas commission said last year.
A more likely change may be new restrictions on where developers can build homes near wells. The house in Firestone was constructed after the gas well was in place and highlights a loophole in Colorado regulation, said Stifel's Scialla: While oil and gas companies are barred from drilling close to homes, there are fewer limits on homebuilders who buy land near drilling operations.
The state could also tighten rules on where pipelines are placed or require more mapping and inspections of underground flow lines, the smaller conduits that carry gas and oil from well sites. It's an area that's been "woefully underregulated," Scialla said, even as drilling and homebuilding have both expanded around the state.
"I have to believe at the very least there will be more regulation around flow lines," he said. "They don't even know where half the flow lines are in the state."
Colorado's Sierra Club has called for a moratorium on all oil and gas production until the accidents are better understood and a task force to study how the industry is regulated. Politicians, nudged by millions in industry campaign donations, have become too lenient with drillers, said Jim Alexee, director of Sierra's Colorado chapter.
"What Colorado needs more than anything is an honest and objective way of looking at the industry," he said. "Resource extraction is not going to go away in Colorado anytime soon, but we need to talk about how we deal with it in a responsible way."
https://www.bloomberg.com/news/articles/2017-06-13/blast-backlash-hangs-over-drillers-as-fractivists-seek-limits